How Creating Boka Made Zeus Jones Better Flossers
I should be honest right up front – I've never been a model citizen when it comes to taking care of my teeth.
Like millions of other people I can pinpoint a single, awful dentist experience that made me fearful and distrustful, after which I sort of thumbed my nose at the whole profession. In my lifetime I've been a pretty good brusher, an infrequent flosser, and a reluctant visitor of dentists.
Needless to say, I'm the last person you'd expect to help launch an oral-healthcare company, and I certainly never dreamed I'd wake up in the middle of the night excited about the prospect of ginger dental floss.
Today, Zeus Jones is giving birth to Boka, a subscription-based oral care company we co-founded on the belief that beautifully designed products and guilt-free education can combine to create healthier mouths and, by extension, healthier bodies. For months we've been busy little bees designing brushes, formulating toothpaste, testing floss types, creating an e-commerce platform and learning all we can about the connection between oral care and holistic wellness.
We've done this while handling our regular client workloads, and it's been both exhausting and exhilarating.
Since partnering to create Boka with James Hagen, President of American Dental Accessories, several people have asked us why. Why co-found, instead of incubating our own ideas? Why dedicate resources to a startup, instead of pitching new business? Why oral care?
The last question is one of the easiest to answer. In our early discussions with James, he impressed us with his deep knowledge on how oral care is connected to whole-body care. We were intrigued by the idea that brushing/flossing/going to the dentist can, for instance, reduce the risk of heart disease. What if we could encourage people to brush and floss more by delivering simple, gorgeous products? Going about a million steps further, what if we could completely disrupt the oral care industry?
There are so many opportunities in there, and we couldn't wait to help unpack them.
Furthermore, sometimes you meet someone and it just clicks. Meeting James was like that for us. He brings a seemingly bottomless well of curiosity and passion about health and wellness, while also being laser-focused on moving the business forward. He's got that hustle (the good kind) that is the hallmark of a true entrepreneur, and over the last several months he has trusted us to do our thing. More importantly, he's trusted us to learn as we go, which is our favorite part and one of the biggest reasons we're doing this in the first place.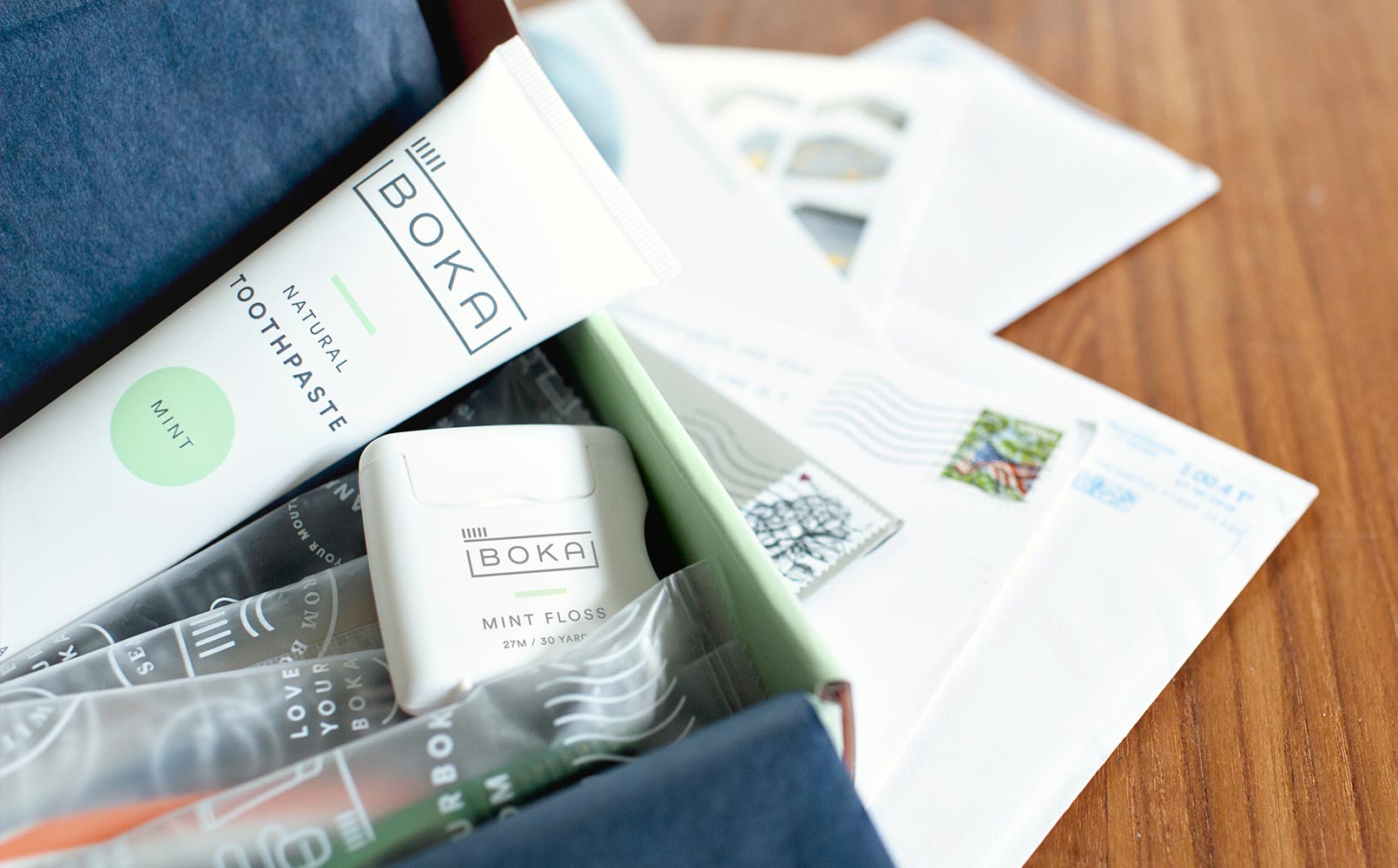 Launching Boka has allowed us to apply our marketing smarts, but also learn new things. There's the aforementioned toothpaste to formulate and upteen different things to think about in choosing a tube for it. We're learning that sometimes building your own commerce site seems daunting, so you build it on someone else's platform, and then that turns out to be MORE daunting. We're coming to understand that the rules of marketing we know like the back of our collective hand don't always apply to creating a subscription-based business, so we're learning new rules and making up others as we go. We're becoming better, faster troubleshooters.
I've been kicking around the brand marketing biz for 18 years. (Just typing that makes me feel a thousand years old.) During that time, I've often helped sell people crap they don't need, services that don't enhance their lives in any way. The most satisfying points in my career have been when I was able to help build something of true value – the exact opposite of all that disposable crap.
For me, personally, Boka represents not just the chance to build a consumer brand or make tangible goods. It represents the chance to do something good, to crack the nut on a much-derided industry. At Zeus Jones, we like to make cool stuff as much as the next guy, but we prefer a project with a little more meat on its bones.
For now, Boka is a great little company that will deliver fantastic oral-care products to your door every three months. One day, we want it to be bigger and reach further than that. We don't know exactly how, and that's part of the fun.
We'd love it if you'd give Boka a whirl and share your feedback with us. We're already looking ahead, and would love your help in crafting what the company becomes.