What happens when a company's name no longer covers the breadth of their work?
Local non-profit AccountAbility Minnesota came to us to help rebrand their organization after many successful years providing high quality free tax preparation and financial services to individuals and families of limited means.
Their many passionate and savvy volunteers and staff had begun pursuing a broader focus: "improving the overall financial well-being and futures of low- and moderate-income families."They wanted their branding to clearly reflect their expanded vision while making sense to the many customers and volunteers who prepare taxes.
To find the right balance, we worked to understand everything we could about the nonprofit. Through work sessions, moodboarding workshops and interviews with customers, we landed on a new name and branding that felt right for the organization. In the meantime, we had the pleasure of working with some of the nicest and brightest people in town.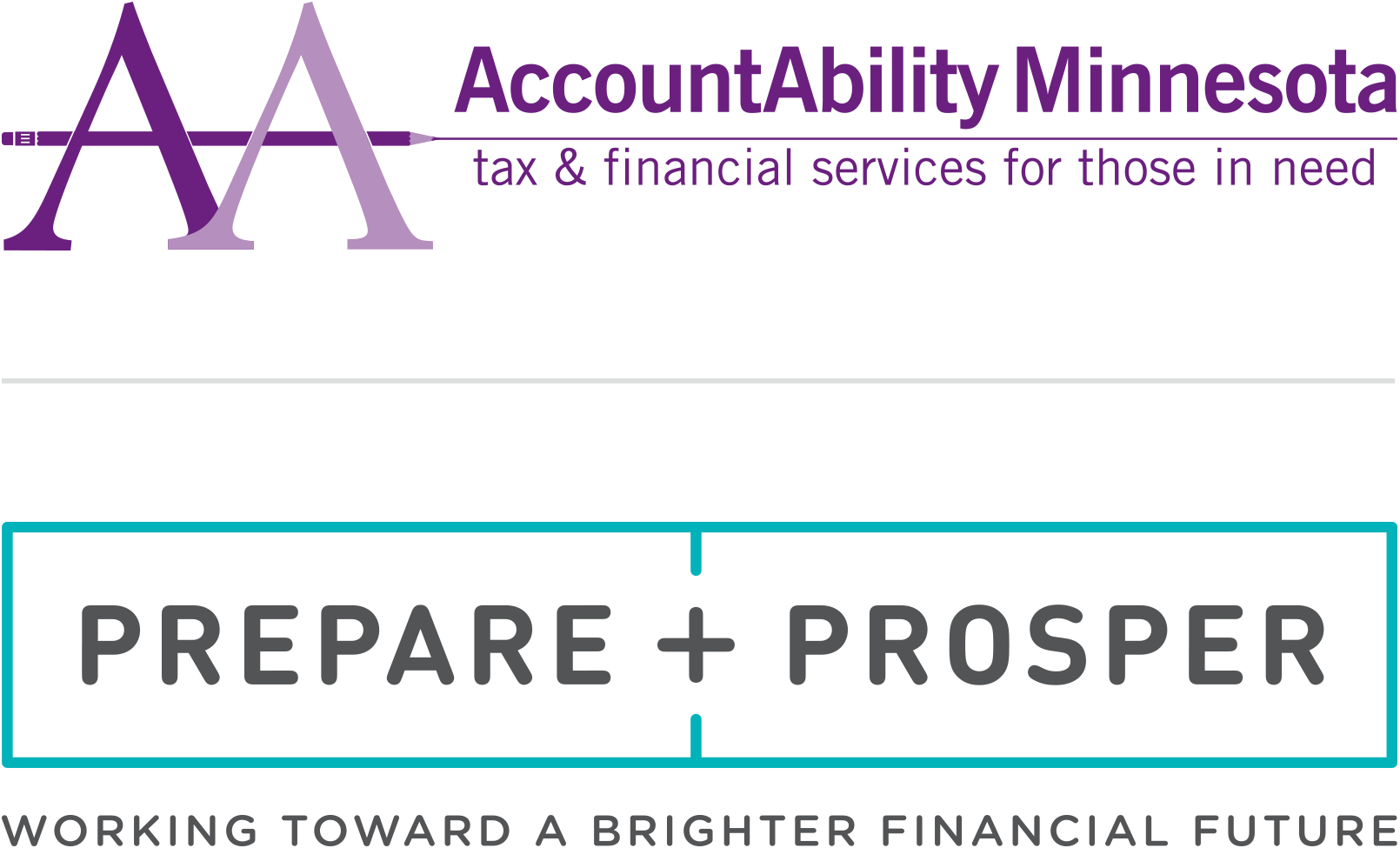 Prepare + Prosper is a clear reflection of the organization: aspirational, but grounded in action. The word "prepare" hints at tax preparation while the word "prosper" feels financial without being too literal. The name can also be read more broadly, as an idea that points toward a future of financial growth, for individuals and the community as a whole. It speaks to the nonprofit's history in tax preparation, but also alludes to the work they do to foster financial capability. Starting with an active verb gives the tagline a strong sense of movement and energy, and the emphasis on "working" reflects the effort that volunteers, customers, and the organization put in together. "Brighter" lends the line optimism, and "financial future" combines a clear explanation of the forward-looking purpose of the organization. We hope that it's just telegraphic enough to convey what they do without losing the emotional spirit of their mission.
The surrounding frame and condensed type are inspired by elements found in tax forms, but softened by the round terminals in the lines and letterforms. Carefully applied interchangeable color adds modest energy to the logo. Both logo lockups are balanced by the plus sign, which is another nod to their work in tax preparation. The two primary logos were created using the exact same elements, but arranged in two orientations for a flexible logo system.  The Prepare + Prosper color palette was created by refreshing the organization's previous color palette. This bright new palette conveys energetic personality while maintaining a recognizable tie to their heritage.
We developed a set of icons that mimic the design of the logo itself. Monowidth lines, line breaks, and rounded terminals and corners all reflect the forms found in the mark. Multiple colors were used to add energy and recognizability to the icons. We partnered with Leslie Plesser to develop a system of photography using customers, employees, and volunteers. These authentic portrait photos focus on positive moments and portrayals of people that reflect the optimistic character of the organization.