Relevance Is Everything: Why adidas Is Winning
About a year and a half ago I wrote about how adidas' unique approach to innovation and cultural partnerships was propelling them to success in the hearts and minds of sneakerheads and youth across the globe. And, in fact,  marketplace success has followed – adidas has surged to the coveted number two shoe brand slot, passing even Jordan brand, to breathe down Nike's neck.
In a recent Twitter poll, Darren Rovell recently asked over 25,000 fellow users what they thought was the critical component of adidas' recent ascent. Here's a screen grab of that poll: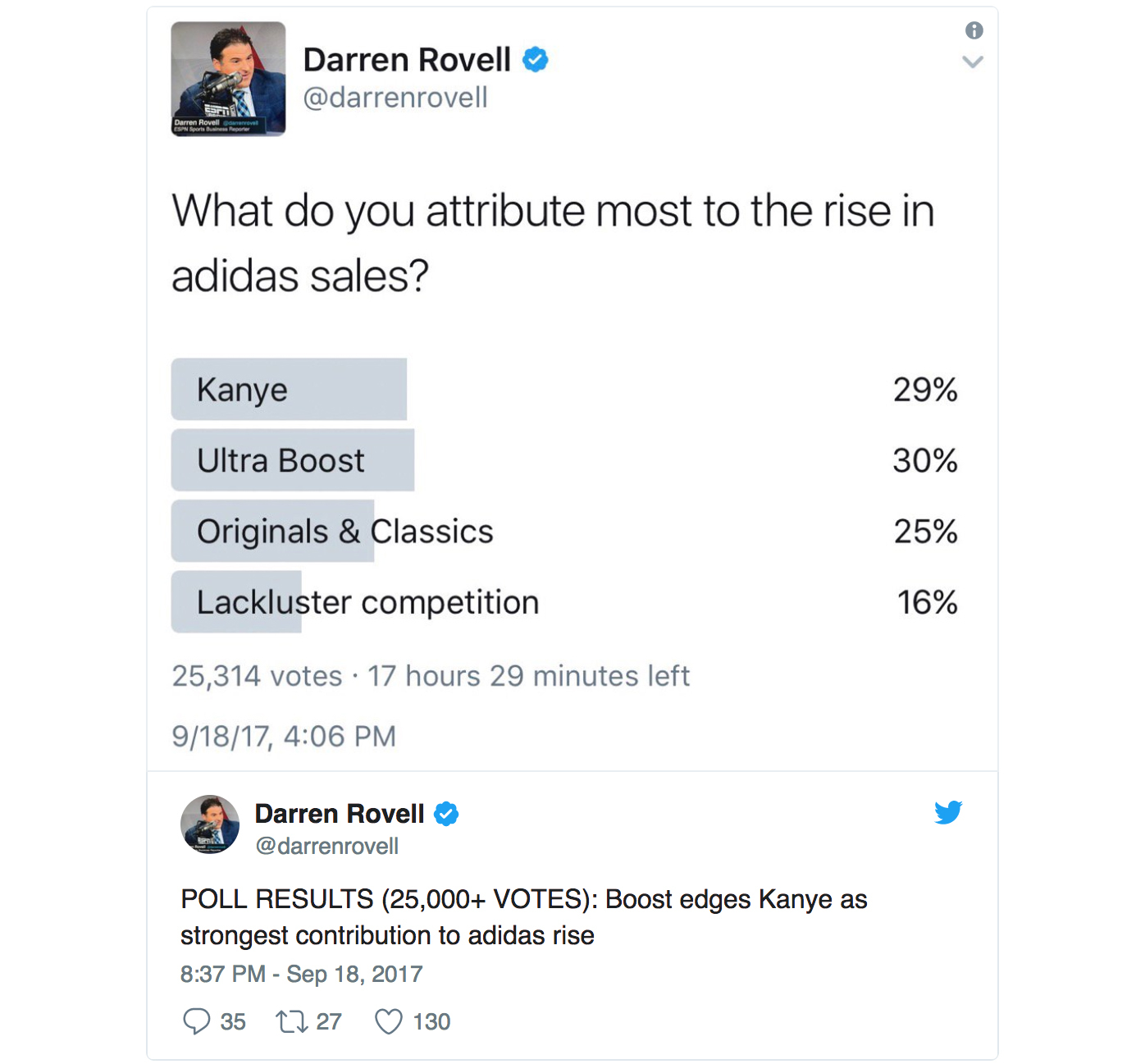 The above poll is interesting to me for a couple of reasons.
First, the fairly even spread across the categories speaks to adidas' multifaceted approach to winning. Second, the fact that Ultra Boost slightly outperformed Kanye is personally satisfying to me, because I have an intense personal love for both adidas Ultra Boost and NMD sneakers.
My first ever encounter with adidas came through not shoes, but music. The first cassette tape I ever purchased was Run DMC's "Raising Hell." It was released at the height of the group's fame, and one of my favorite tracks on the record was "My adidas." It's a song all about Run D.M.C.'s deep love of the 3 Stripes. It wasn't long after its release that sold-out stadium crowds were taking off their adidas Superstars and waving them in the air in time with the song. And, after some initial hesitation, adidas signed Run D.M.C. to the industry's first ever non-sport endorsement – what we'd see now as a cultural partnership.
The thing that's important about all of this is the fact that, when business and brands are in crisis mode and perplexed about how to turn things around, they tend to look back to a time when they were at their strongest and most relevant. It's tempting to lean on what made the brand great at that time – to use the same old bag of tricks. The problem is that culture, your consumers, and your competition have all moved on, so it's not as simple as returning to what fueled the brand at its former height of relevance. Instead, you have to understand the true DNA of what made the brand special then and make it innovative and relevant for today.
So it was probably tempting for adidas to look back to the 80s – a time when they were on fire in culture – and simply try to recreate that magic. But what they've done goes much, much further than that. In fact, adidas' current thriving partnership with Pharrell is the modern reinterpretation of what worked so well for them in the 80s – plus a lot more. Pharrell goes beyond simply rep'ing for adidas; he brings fashion and cultural authority while still giving them huge credibility and heat in the sneaker world. And, in turn, adidas wisely seems willing to give Pharrell ever more freedom and flexibility to bring his sneaker and clothing visions to life.
This is one of the main ways adidas' partnership strategy differs from that of their competitors. Where other brands create partnerships that are either here and gone in a flash or very limited in scope (or both), adidas' partnerships span years, not months, and seem continually to get richer. For example, adidas recently opened a permanent retail store collaboration with indie retailer Concepts – an execution that's wide in scope and seems destined to have a very long life. (Not to mention the fact that it's yet another first-of-its-kind for the sneaker world.)
The brands and businesses that are the most dynamic and successful in today's ever-evolving market are those that are flexible and that play in as many diverse cultural spaces as possible. And that's why Adidas is winning.
adidas' Originals campaign is so full of different visuals and cultural ideas that it's mind-boggling. The ads feel at once like a reflection of our dystopian present and an open-ended rallying cry to the youth of today.  Where Originals used to contain the heritage product of the brand that was largely cashing in on nostalgia, now Originals has both remixed that past and moved forward to future-leaning product designs that push boundaries in the sneaker world.
But adidas can't let success make them complacent. Even as my own sneaker closet overfloweth with adidas Ultraboost and NMDs like a metaphoric barometer of the marketplace, there are early signs that the Boost juggernaut is slowing. As we are heading into Ultra Boost version 4.0, even dedicated Boost-heads like myself are looking at a mostly un-evolved shoe. And that means our desire for more is starting to wane.
Plus, more and more, it's outside influencers that are starting to drive demand for the big brands, rather than the brand names themselves.
It's the Supreme, KITH, Off-White, Undefeated, BAPE, Neighborhood, KAWS, Concepts, etc. designed colorways and models that are creating the hype, the sneaker store camp-outs, and the cultural leadership that the big brands are used to monopolizing.
If adidas stutter-steps, it's only a matter of time before Ronnie Fieg of KITH looks around and decides to create his own shoe brand from the ground up. And after that, the blueprint and inspiration is there for others to fragment the industry even further. Plus, I'd be willing to bet serious money that people would line up for days to buy the first ever KITH sneaker.
I'd love to see adidas continue to kick ass and serve as a cultural wake-up call to the rest of the industry. And hopefully, the independents like KITH will continue to do more and more interesting and ambitious things. After all, the more dynamic and energized the sneaker world is, the better the sneakers are for everyone.