Why You Should Stop Being So Original
I recently dug deep into my piggy bank to purchase my first designer handbag, a Mansur Gavriel tote.
Scoring a Mansur Gavriel bag is a major accomplishment, as the bags have been nearly impossible to find since the New York City label's launch in 2012. Needless to say, I erupted with glee when my Mansur Gavriel arrived. It was, after all, a major retail victory.
So, what's so special about this handbag? Does it have a built-in espresso machine that serves up a frothy cup of cappuccino in 20 seconds flat? Nope. Surely it must be made of some type of technologically advanced material that can easily change colors to match any outfit? Nope, afraid not. The truth is that there isn't really anything innovative about Mansur Gavriel's line of handbags. To the untrained eye, they actually look quite unassuming. So what's the big deal about a bag that's really just a classic leather tote? Let me explain.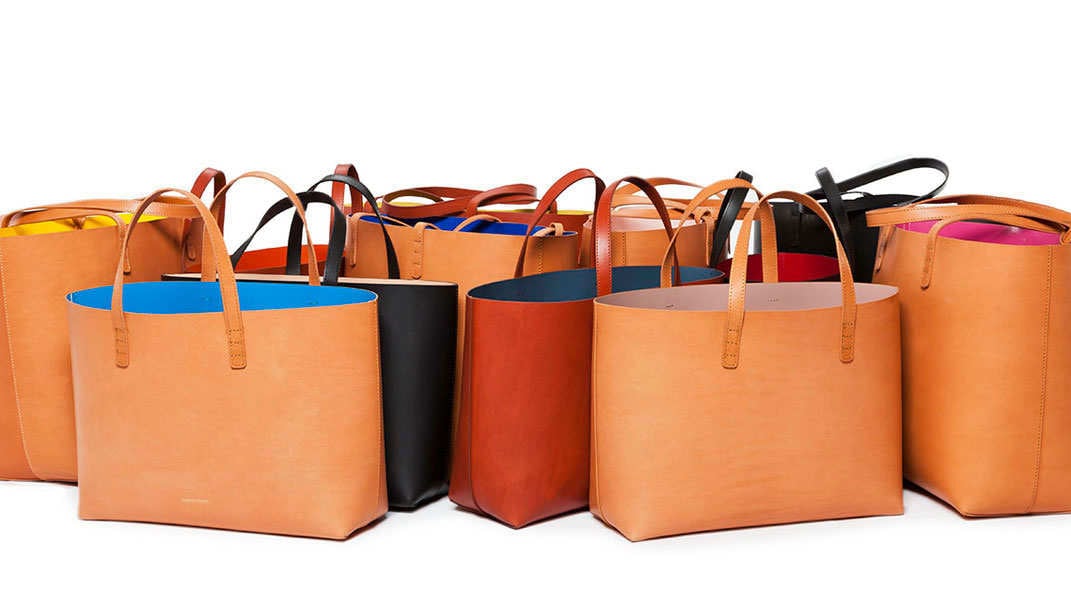 Creative is Just Crap Without Craft
The untrained eye might miss the craftsmanship that makes this bag well worth the spendy price tag. Inspired by the contrast of natural textures and the intensity of color, each bag is made of premium Italian leather from the Veneto region of Italy. These handbags are expertly handcrafted, each stitch precisely the same length as the next, with nary a loose thread in sight. The natural leather they're made from is of the best quality, which means it has an unparalleled smooth feel, unlike the junky Saffiano leather that mass mid-luxury labels have been trying to pass off as quality leather for years.
Craft Alone Won't Make Creative Great
Mansur Gavriel's commitment to superior craftsmanship and quality materials alone is enough to set their handbags apart from similarly priced competitors. But it isn't just craftsmanship that made their handbags the first post recession "it" bag; it's craftsmanship plus the combination of two key conceptual ideas:
That classic design can be modern
That luxury doesn't need to come with an over-the-top price tag
Combining multiple ideas to form a new idea is a creative thinking process called conceptual blending. This intuitive process is the secret tool that helps a lot of creative types land on what we think of as that "big creative idea." I think that Steve Jobs sums it up nicely with this quote.
"Creativity is just connecting things. When you ask creative people how they did something, they feel a little guilty because they didn't really do it, they just saw something. It seemed obvious to them after a while. That's because they were able to connect experiences they've had and synthesize new things."
-Steve Jobs
Conceptual Blending + Craft = Great Creative
Most of us can agree that getting to the big creative idea is only half of the job – the rest of the work rests in the execution. That's why it's fairly difficult to make great creative without both conceptual blending and craftsmanship. My beautiful handbag sits next to me as a daily reminder that combining craft with conceptual blending can create something great, you don't need to rely on originality — and that alone is worth its price tag.
The Takeaway
So, what's the lesson buried deep in the leathery goodness of this handbag? I think it's that trying to be boldly original isn't such a big priority. After all, this pressure to be different, to be "first," is what often leads to creative paralysis. Instead of trying to figure out what no one has done before, why not look at what's out there and think of ways it could be made better, or try bringing good ideas together to create something new.
Creatives are never really finished honing their craft or their ability to engage in combinatorial play. If you want to create something great, drop the focus on original ideas and instead look at the world around you for unexpected opportunities and connections — they just might be the key to your next big idea.