Feeding A Happy City at Mess Hall
Minneapolis, far from being a uniform Nordic culture, is a unique mix of multicultural influences that are actively enjoyed and celebrated across the entire community.
As part of our rebrand of Aquatennial, the Minneapolis Downtown Council asked us to help create a new food festival that would highlight the growing multicultural and foodie scene in our city.
Being a group of self-identified food & drink enthusiasts with several ongoing Slack channels dedicated to the subject, Zeus Jones was eager to take on this project. And on a personal note, I was excited to work on a food festival where I could nom and nosh while saying, "Hey, I made this!" Riding in a WWII airplane was a nice perk, too – more on that later.
To start things off, we needed a name to rally around and get excited about. As part of our naming process, we looked at festivals from around the world to find themes. There were several naming buckets that emerged: from places, lore and feelings to losing inhibitions, and the celestial.
We used this spectrum in our brainstorm to form a short list of names. In collaborating with the Minneapolis Downtown Council, one name became a clear favorite. What we liked about Mess Hall were the connotations of community and messiness. We felt that the name evoked the spirit of the event and lent itself to the imaginative design work we wanted to put forth.
Being a new event during Aquatennial, we wanted Mess Hall to play in some of the same design space as its sister event, but also function as a free-standing festival. We used 80 percent of the color palette from Aquatennial, swapping the light grey for a more vibrant purple, and playing up different color combinations.
The logo emphasizes the food aspect of the event with a happy mouth ready for more noms and nosh. While Aquatennial focuses on elements of the city, we felt the Mess Hall mark should focus on the feeling and excitement of new flavor experiences. To tie the two marks together we rounded the "A" and extended the crossbar of the "A","H", and "E".
We also designed a series of icons that encapsulated the diverse food options, music, scenery and fun that Mess Hall would bring to our city in the summer. We used these in loose formation with the color blocks to illustrate the free-form feeling of dabbling in different food, flavors and entertainment.
Merriweather is sophisticated and a little quirky, which pairs well with the versatile Source Sans, both Google fonts. Using these accessible, free fonts made it really easy to get the website up and running quickly and meant that future designers and vendors could easily make their own branded collateral for the event.
Web was the primary driver of traffic and to inspire foodies to come to the event we needed to make a big impact with the website. We built in some surprising little features like the motion sensitive backgrounds on the landing page and the full width navigation. We also animated color floods behind links, created an icon GIF for the location on the interactive map, and a bunch of additional little surprises.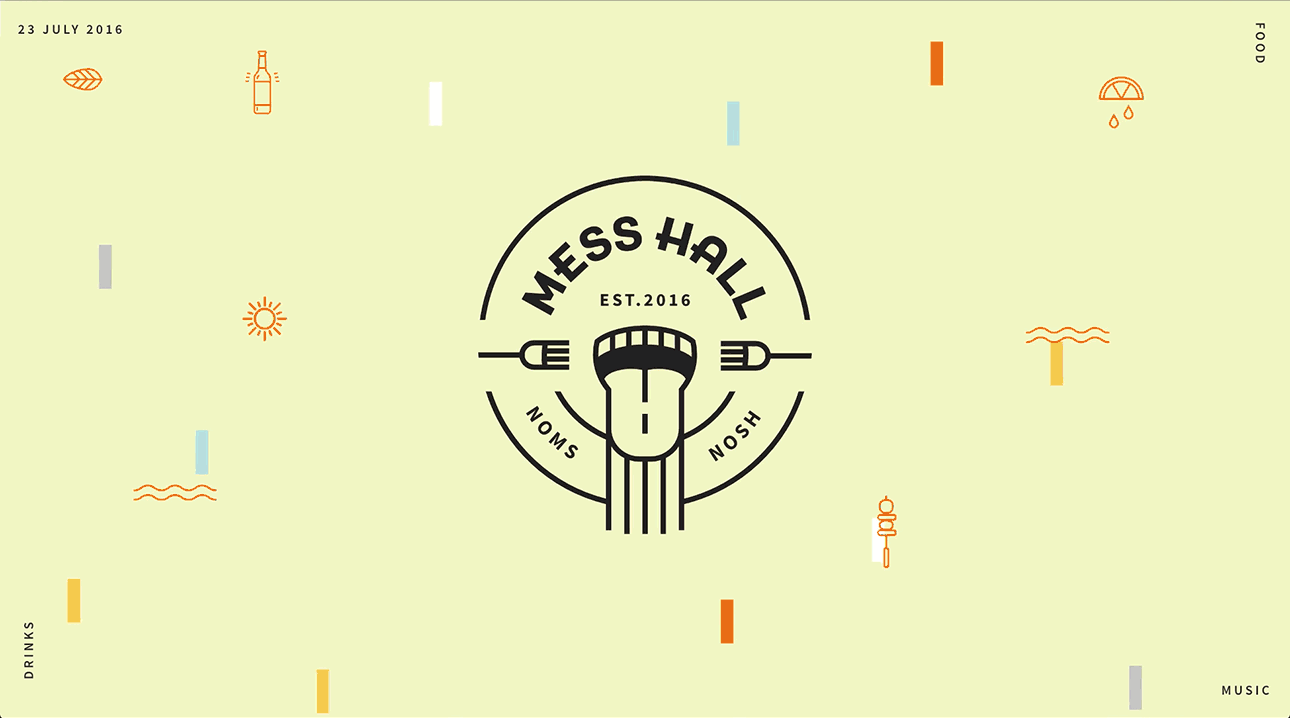 Joneses and friends came out to try all sorts of different dishes and libations, and by the time fireworks went off, we were all delightfully stuffed. Working on this project was really fun and rewarding, and it was great to see all our hard work in the wild with people having so much fun with their friends and family. Can't wait to see everyone there next year!