Into the Unknown: Creating Our First Book
We're a group eager to take on new challenges, especially ones we know very little about.
The first murmurings of some sort of "annual report" came about on a summer afternoon as we tossed around ideas about how to share more of our work with clients, partners, and each other.

Annual report? UGH THAT SOUNDS GROSS
Maybe it does at first. But that's not how we approached it! As often happens at Zeus Jones, we had a healthy amount of philosophical conversation about our intentions, goals, hopes and dreams for this first-of-its-kind annual report. We arrived at a couple guideposts for what we thought would make a successful book:
It should not be a book made of our best case studies. Case studies are often boring, and don't tell the truth about the messy twists and turns that are often part of our projects. To that point, we felt it was important to showcase areas of thought where we had a clear point of view, but also thoughts and ideas that were still in development. The book had to look back and also forward.
It should showcase our collective voice. We all have unique ideas and experiences to contribute to the work we do at Zeus Jones. There is no one distinctive point of view on almost any given topic, and we wanted the personal style and ideas of our authors to shine through in the finished piece.
Then we made it. It was messy and awesome.
We're extremely proud of the final output. As a process for making a book, however, we're not sure we really nailed the best approach the first time around.
We started with a casual survey to get at some topics to cover in the book. We asked everyone at ZJ to think about the most impactful thing they've worked on and what was learned, what were some of the biggest problems they were facing, and where modern marketing was going next. We took a giant list and narrowed it down to a short list of chapters.
Next we drafted authors and got to work briefing the authors (QUITE loosely) to tackle outlines, and then first drafts. We edited. And edited. And edited. There was a lot of editing involved. And not because the content wasn't great, but because so many of the chapters and topics were evolving and shaping as projects were underway. We dove more deeply into each chapter, finding connections along the way across different parts of the book. Once each chapter started to take form, we made a plan for chapter order, added a completely new piece, intro, and conclusion, created a theme and then removed the theme. Remember, it was messy.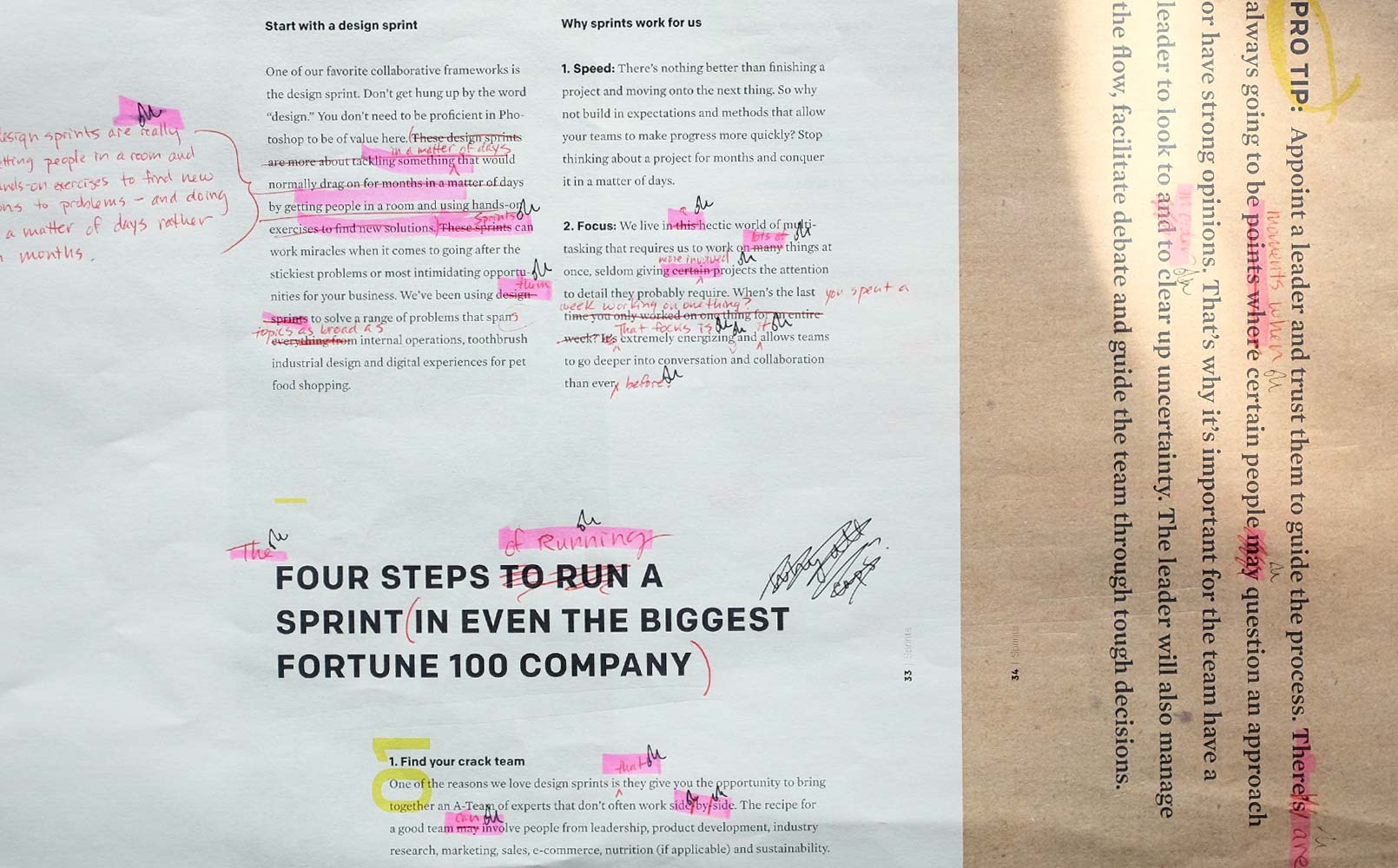 The greatest outcome of the messy "un-process" used for content production was that it informed a visual approach that emphasized process over perfection and gesture over form. We didn't want the book to look like us, we wanted it to fundamentally come from us. We achieved this by starting with the core ZJ brand elements, and then adding visual cues from around the office that highlighted how we work. Bits and pieces of work session whiteboard notes, photocopied illustrations and employee-drawn illustrations brought a sense of immediacy and imperfection to the design work.
We knew we couldn't design 85 pages without any structure, so behind the process driven imagery was a more formal grid and set of typographic rules. This back and forth between formality and improvisation provided the happy medium we were looking for. It felt like us, because it embodied the spirit of exploration we've always worked hard to maintain inside the walls of Zeus Jones.
We discovered that even more than digital work, print (especially) takes an eye for detail. Four rounds of (painful) proofing later we were ready to go to press. Working closely with our printer, Catapult, we tweaked color, checked densities and made sure that even on kraft fly sheets our inks were showing clearly.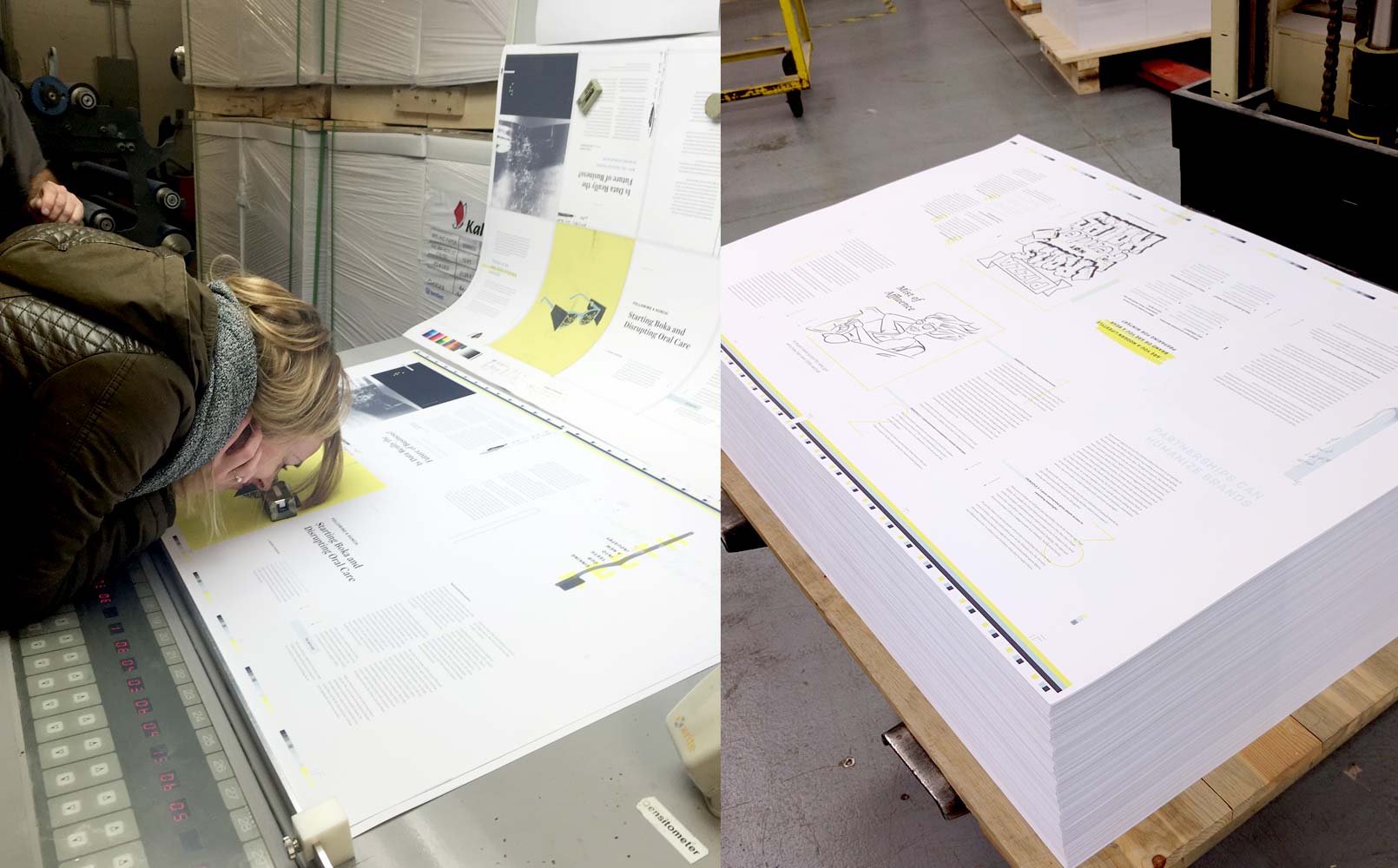 Watching the pages pile up on forklifts brought the project home pretty quickly. Five months after starting the project, we received a handful of small boxes, filled with our book.
We learned a few things along the way
Making things is what we do everyday at Zeus Jones. During our 5 months of concepting, writing, editing, designing, proofing, and course-correcting we learned some important lessons about ourselves as well as how to make a book.
There is something deeply satisfying about imprinting thought onto a physical object. Having our collective thoughts brought to life as a book to be read, shared and held in your very own hands was something more special than we thought it would be. A lot of sweat, figurative blood and several tears were shed to bring all the pieces together. Holding a real book, with real pages and lots of real words (by really smart people) was deeply gratifying. 
Our strength comes from our many, varied voices. Consistency and singularity have been the core tenants of branding for so long, it bears noting that doing something different, was different. Through countless rounds of editing, we worked hard to ensure the unique voice of each writer remained intact. All those different voices and ideas are the catalyst to our work, and help cover new ground in ways we don't always see coming. (We don't mean this just as lip service. Check out our new internship program for more information).
The underlying themes in our work are what drive us forward. While the day-to-day challenges are real and important, being able to step back and see the broader themes in the work we had done over the last year was motivating, and something every organization should do. Our intent at the outset of the project was to showcase the various areas we were thinking about over the past year, but we discovered that in doing so, there were common unifying principles that were valuable. These themes of finding purpose, investing in humanity and asking hard questions have helped us make more meaningful decisions as we move forward into 2016.
We're excited about the depth and range of thought contained in volume one of the Zeus Jones book, and as such, will be sharing book chapters here on the blog for those who didn't receive a limited edition book.