At Zeus Jones I'm more than a designer. I am a strategist, producer, creative, baker, dancer, meal planner, and push-up enthusiast.
All of these different roles improve my skillset and ensure that everything I design at Zeus Jones is strategic and purposeful. I feel challenged every single day, but sometimes I miss creating completely purposeless, just-for-fun designs. After one exceedingly exhaustive Monday many months ago my life changed forever.
Not really, but I stumbled upon a simple challenge and rediscovered my love for those quick, just-for-fun designs. I was sprawled on the couch, probably watching the Bachelorette or Dance Moms, and mindlessly scrolling through my Instagram feed. This is my guaranteed activity if I'm not, you know, strategizing, producing, being creative, baking, dancing, meal planning or doing push-ups. Anyway, I noticed an overwhelming amount of people on my Instagram feed sharing various design samples with #the100dayproject.

After some light research, I somehow committed to 100 days of devoting 30+ minutes of my beloved free time to designing something with no purpose every single day. I am happy to say 100+ days later I am done, and proud of my new portfolio of completely random, sometimes bizarre collection of designs. You can view all of the designs (thank you, hashtags!) here.
Here are a few of my favorites: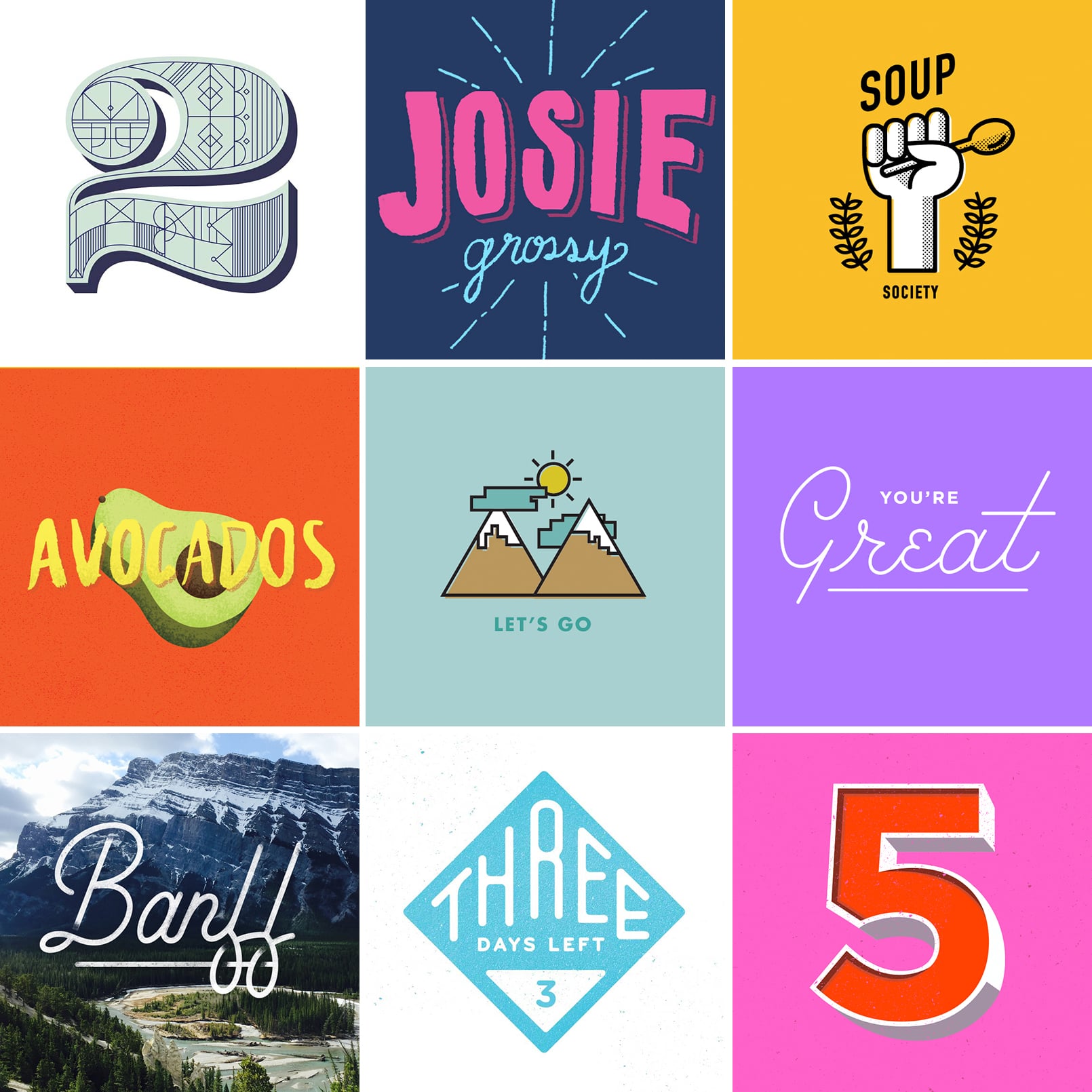 Choosing my favorites was difficult because each design represents a tiny memory from the past three or four months. Some of them took less than 15 minutes, while others took an entire season of Pretty Little Liars. The challenges were real as I wasn't always DYING to run home and stare at my computer for even longer to create one of these posts. Not to mention, it's really hard to design when you're exhausted. However, I wouldn't have experienced any of the benefits from this project had there not been challenges.
Benefits:
The process became philanthropic-ish. When I got to what at first seemed like a low point, I actually discovered how fun it was to use this challenge to help out other people. I didn't start a charity or anything, but I got a lot of joy out of random, old friends reaching out and asking for a logo for their travel blog, their wedding date, even a St. Paul chicken coup. I was excited to have a new design topic and these friends were excited to see something fun and personal designed for free.
My technical skills improved. Having absolutely no guidelines allowed me to try styles and techniques I had never tried in the past. I also designed some really wacky stuff (see: meow post) that typically doesn't have a place in the marketing world.
I'm more confident I can design in a wide range of styles and my work is valued by the people around me. When I first started posting my designs on Instagram I felt extremely self-conscious for two reasons: 1) I don't like spamming people's news feeds and 2) I held a really high expectation for myself to post an impressive design every single day. I think my best designs are actually at the end of the 100 days, when I started to give myself a break and have more fun with the whole thing.
I can't guarantee I'll be committing to another 100 days any time soon, but keep a look out for more of those just-for-fun designs on my Instagram account!