Building The Boka Design Language
As a designer in this industry, it's not often that you get the opportunity to be your own client.
Not that I don't enjoy working with our clients – I love it. But even though we have super close relationships with our clients at Zeus, building something for yourself creates a different dynamic. We've spent the last year doing just that, and a few months ago we launched the fruits of our labors: our newest business venture, Boka.

We've got an incredible partner who's placed a ton of trust in us, and together we've been able to craft a business from the ground up. It's been a crazy ride so far, but we're immeasurably thankful we've been able to do it alongside a partner we love.
We treated this business venture the same way we work on a lot of our projects. But because we're our own clients, we're able to share every single step of the way. So here's what it looks like to build a brand language from scratch:
Category Audit & Whitespace
We started out by taking a look at the three main categories Boka would be part of: Oral care, subscription services, and companies we felt were already disrupting the oral care industry.
Based on the clichés we saw in those categories, we started to carve out areas of whitespace for Boka – things we could do differently to stand out. At the same time, we built Boka's belief, purpose, and pursuits; A framework we use to get at the core of what a brand's all about, and which act as the foundation for every action that brand takes. By using the belief, purpose, and pursuits as a filter, we were able to focus on areas of whitespace that felt true to the Boka brand. That foundation helped us make sure we weren't doing something different for the sake of doing something different.
Design Directions
At this point, the brand just existed conceptually at a pretty high level. To help flesh things out, we developed three directions that we used to explore different expressions of the brand. Each stayed true to the whitespace we had defined earlier, but pushed away from one another, so that we had some context to make decisions.
To be sure those decisions were smart, some of our engagement strategists used their data knowhow to define a target audience for Boka. Since I'm not even close to being an engagement strategist, I won't go into the details here, but I can tell you that this was, and still is, a hugely valuable point of reference. It's always tempting to make decisions based on what you think a brand should do – but you may not even be part of your own audience.

Final Execution
Taking our newly defined audience into consideration, we were able to use parts of the three directions above to make something even better. Using the best bits and pieces of each, we went through several more revisions until we came to a final name, moodboard, and belief, purpose, and pursuits.
From early on, we knew that we wanted our bristles to use Japanese Binchotan charcoal, so it seemed fitting to look to Japanese minimalism for inspiration. We loved the simplicity of that aesthetic, but wanted to bring in a little more fun and approachability. The logo is a good example of how this mash-up came to life. We used simple, stark forms to create the shape of a toothbrush sitting on top of a box, then made the type nice and open, and gave it the soft rounded "A" to add in a little bit of friendliness.

Moodboard
We pulled inspiration from all over the web to create the moodboard below as a guide to design the visual brand language for Boka. It's not about copying the work of others, but taking inspiration from the great work that's out there as a starting point to work from. Overall, the design is clean and modern, but has bright color, illustrations, and lifestyle photography that add a friendly personality.
We chose four primary colors, starting with Mint (which seemed fitting, given our toothpaste flavor) and layering in three more colors to round out the palette. To keep things simple and approachable, we made sure to use our colors with restraint.

For the brush itself, we decided to simplify the forms and cut out the clutter that we saw in other toothbrush brands. A good brush needs soft, tapered bristles and an ergonomic shape that's comfortable to hold. Aside from that, we stripped everything else away.

The website and packaging – the world's first impression of Boka – came next. As we worked on them, we developed an iconography style and created a dozen sub-marks in the form of little expressions. We took those marks and created a pattern we apply to the packaging and a few spots on the website.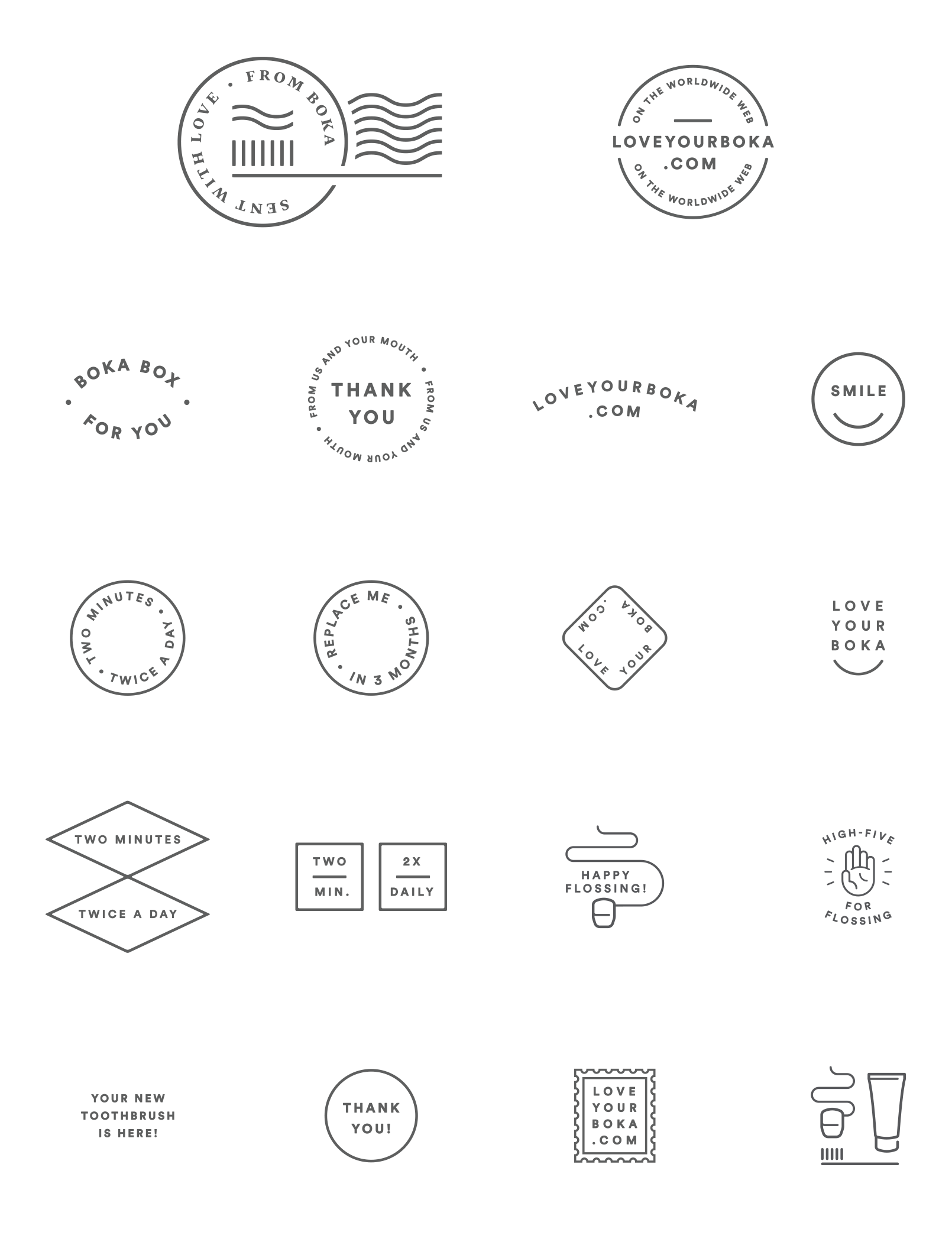 The website draws on the same balance of simplicity and fun that we used to design the product, bringing in color and playful interactions. And, like the business itself, the right partner was key to creating the site. Thankfully, we found a web developer whose love for details surpasses our own. Together, we created something we're all super proud of. The whole site is fully responsive and is loaded with a ton of great little interactions and details. (I love this 404 page.)
As for packaging, the Boka box itself needed to stand out – getting one in the mail should create a moment of recognition and delight. Not only that, but the unboxing experience needed to capture the same attention to detail that defines the product. We really liked the idea of doing a big chunky pattern on the outside that deconstructs the Boka logo and other graphics so that, whichever way the box is sitting or however the label is applied, there are no awkward cuts. The chunky pattern is also much more forgiving to shipping and mailing scuffs.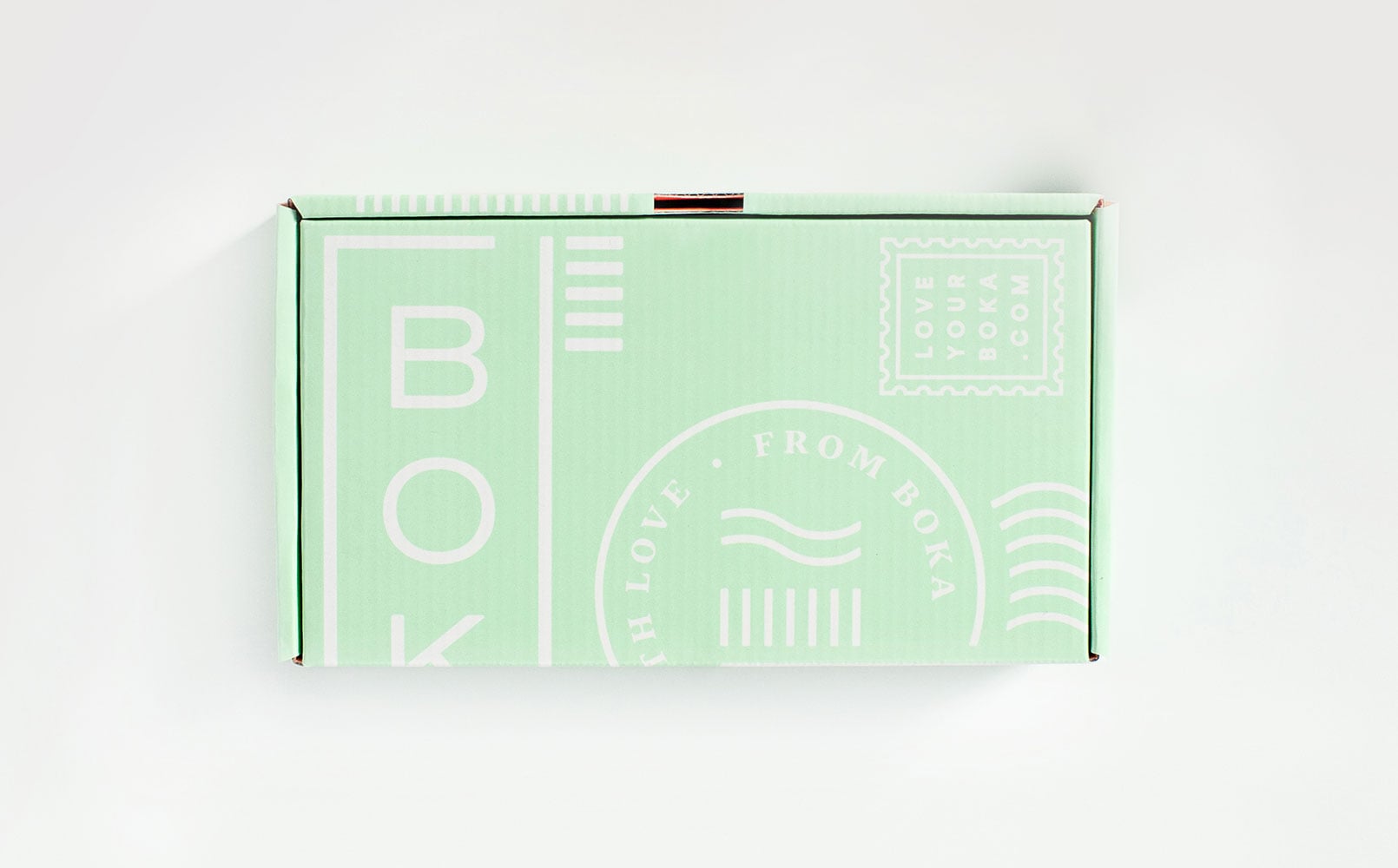 Once people got into the box, we wanted the experience to get more personal and delicate. There are a ton of little messages that are revealed as you open the box and dig into the tissue paper, and we designed the packaging so that every box has all the Boka colors, regardless of what you order. In the end, everyone who gets a box will have the full product and design experience, and, ideally, a real feeling for what Boka is all about.
I can't overstate how fun this project has been for us. Between the Zeus Jones design team and the larger Boka team, there were a lot of hands that made this what it is. We're all super proud of it, and we can't wait to see what's next for Boka.
Happy brushing! loveyourboka.com