Redesigning Famous Dave's: How Heritage Can Lead a Brand into the Future
When Famous Dave's came to us asking for a brand refresh, we knew the answer wasn't just to transform them into a clone of the current trendiest restaurant.
But we also knew they couldn't stay the same as they'd always been – they needed to adapt to the changing needs and expectations of consumers. It was through their rich heritage that we found the way to hold onto what makes Famous Dave's who they are while updating the brand for today and tomorrow.
The brand has always been led by the all-American heritage that barbecue represents, and it's resulted in tremendous success: 180 restaurants across the country, a mix of franchises and corporate-owned locations. But, in recent years, the business has been experiencing decline – largely due to a cultural shift in what barbecue and even dining out mean for the modern consumer.
That cultural shift is mostly away from chain restaurants and toward what people see as more "authentic" experiences. But in our research, we found that "authenticity" doesn't mean being mom-and-pop – it actually means being true to your heritage and the beliefs that your brand holds dear.
What we did for Famous Dave's needed to make their heritage and beliefs clear to every customer – new, old, one-time, or repeat. So we set out to update their design and language to show the world who they really are.
We started with their brand identity and tone, which had a long-established and very strong point of view, but needed some updating. Because of their large number of franchises, they'd created a library of messages and language that sometimes contradicted each other, and, as a resource, could be both confusing and limiting for their creative. We took multiple stakeholder opinions into account, focused on the brand's deep barbecue heritage and unique, irreverent tone, and streamlined the brand's voice. The resulting voice and tone guide maintains what makes Famous Dave's different, but updates it for a more welcoming and heritage-forward set of messages, breathing new life into future advertising and restaurant designs.
Next, we worked on an evolution of the brand's design.
We wanted to make incremental changes that moved the brand forward rather than revolutionizing their look and losing their strong ties to heritage, so we were careful to make the brand's must-haves key elements of all of our new designs – Wilbur the pig, sign painting, bright colors, and Famous Dave himself. But we also wanted to add some elements that spoke to new consumers and modernized the look of the brand.
To do it, we focused on picking a palette that toned down some of the brightest colors, kept others, and added textures and treatments to lend an authentic feel to our designs. We also created new elements for the logo, the barbecue competition team, to-go service, and the restaurant's loyalty program, Famous Nation, all of which have a cleaner, more streamlined look that speaks to heritage and expertise, but still maintains the whimsical elements of the brand's identity. With all those elements working in concert, every consumer touchpoint communicates the same feel and message, and creates a uniform experience of the brand's personality.
Once we had the brand's new voice and look established, we worked on bringing it to life in the real world. In partnership with Famous Dave's corporate restaurant design firm, Shea , we created a broad design system that gives every restaurant owner the tools they need to apply the new branding to their location. Because lots of locations are owned by franchisees, we worked hard to make sure that what we created could both repurpose existing décor and signage and use new elements to make a cost-effective remodel possible.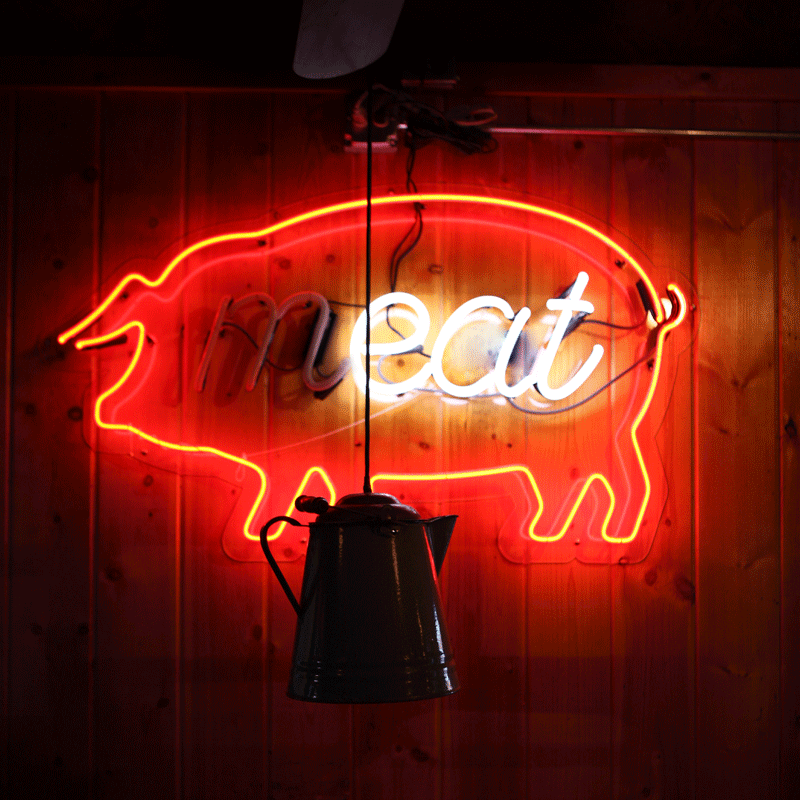 Updating a heritage brand can be tricky business – it's important to keep loyal customers happy, but it's just as important to trace a path to the future, whether that means new customers or new ways to do business. By identifying the key elements that define a brand's beliefs, values, and personality, and making sure they remain unchanged, it's possible to modernize a heritage brand without losing the any of the history and personality that make it unique.